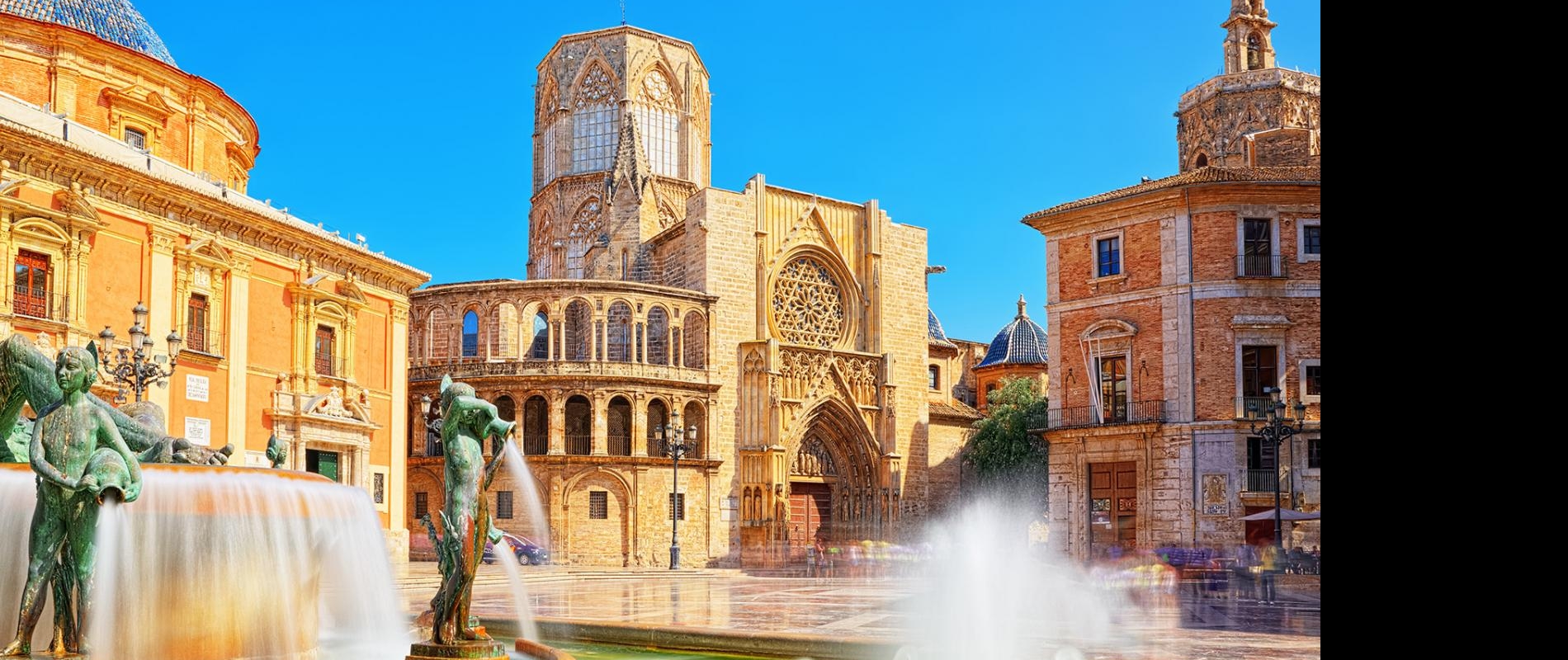 Welcome to
Valencia & Castellón
In this medieval Kingdom of oranges, burning effigies, food fights, paella, beautiful beaches, and exciting nightlife, a rich tapestry of landscape and culture awaits you.
Move to this beautiful province where medieval history comes to life, and excellent food, fiestas, sport, and culture, fill long halcyon days.
The largest of the three provinces which make up the Comunitat Valenciana (Valencian Community), Valencia Province is situated in the centre of the Spanish Mediterranean coastline. With a subtropical climate and mild winters, Valencia province is an ideal year-round destination. The warm climate is part of the reason that Valencia produces two thirds of all the oranges in Spain, which is itself the largest producer in Europe. In Spring, the heady scent of orange blossoms fills the air; the trees offering up a heaving bounty of sweet Valencia oranges.
Oranges aren't confined to fields and groves, however. Head over to the province's capital and namesake, and you will be surrounded by them: in the streets, in the shops, adorning buildings, and enhancing local dishes. Their juice even forms the base of the signature local cocktail, 'Agua de Valencia' (Valencian water).
Valencia is the third largest city in Spain and is the birthplace of paella, though in this area the dish tends to be cooked with rabbit and chicken, drawing its ingredients from woodlands and fields instead of the sea. The city is home to one of the most famous fiestas in Spain, 'Las Fallas' (The Fires) – where intricately designed effigies, which take a year to create, are burned before a crowd of delighted revellers. Further inland, you can visit another crazy fiesta, 'La Tomatina' – the world's biggest tomato fight. Yes, you read it right!
The province has a rich history and its medieval past has left marks everywhere: gothic churches, fairy tale castles, and winding streets. The province's Moorish history can be felt in the Lonja de la Seda (Old Silk Market) and the College of the Greater Art of Silk, as Valencia formed part of the silk route and was once one of the leading producers in Spain.
History and culture aren't the only reasons to consider moving to the province; with 112 km coastline, there are numerous excellent beaches. If you love water sports you will find everything you need in the province, which is renowned for its excellent facilities including jet skiing clubs and yacht charters. Landlubbers aren't left out either, with golf, cycling, football, horse riding and tennis clubs dotted around the province.
Discover this stunning coastline with easy access to Valencia city and Ibiza; uncover amazing culture and ancient history and enjoy warm weather all year round. Laze around on stunning beaches, mess about on boats, stroll through ancient history and eat the most authentic paella in Spain.
The Costa de Valencia is a stretch of coastline located in southeast Spain between the Costa Blanca and Costa de Azahar. With hot summers, mild winters and approximately 2,700 hours of sunshine a year, this beautiful coast attracts visitors year-round.
With miles of stunning beaches, the exciting city of Valencia close-by and a number of historic towns and villages in the area, this stretch of coastline puts you within easy reach of many excellent days out. With its hidden coves and horseshoe bays, you will be spoilt for choice for a day at the beach. Alternately, if you fancy venturing further afield you can get the ferry to Ibiza from the port of Valencia or the port of Gandia.
Gandia itself is well worth a visit, with its beautiful historic centre and numerous excellent restaurants. The city was an important commercial and cultural centre during the medieval period and offers its visitors a glimpse into Spain's past with the Gothic Ducal Palace and the Collegiate Basilica of Santa Maria of Gandia (known locally as "La Seu").
Time travellers are also advised to head north to Sagunto where you'll be confronted with a dramatic hilltop view of Sagunto castle. Here, you will be able to explore Pompeii-esque ruins which include Iberian, Roman and medieval remains and even a Roman amphitheatre
Of course, you could opt for a spot of culinary history and head to the birthplace of paella, the Albufera Natural Park. The park is home to Spain's largest lake and is home to a wide variety of wildlife. Take a boat out onto the lake and view the breathtaking sunset or head to the nearby village of El Palmar to sample All i Pebre, a rice dish made with eels fresh out of the lake.
The lake isn't the only place for messing about on boats, however, and lovers of water sports can find everything they need dotted along the coastline. The province offers over 3,700 mooring points and Valencia has its own Royal Sailing Club. There is a sailing complex at Cullera, and nautical sports centres can be found at Canet d´en Berenguer and Pobla de Farnals.
---
Location
---
Other area guides in same area