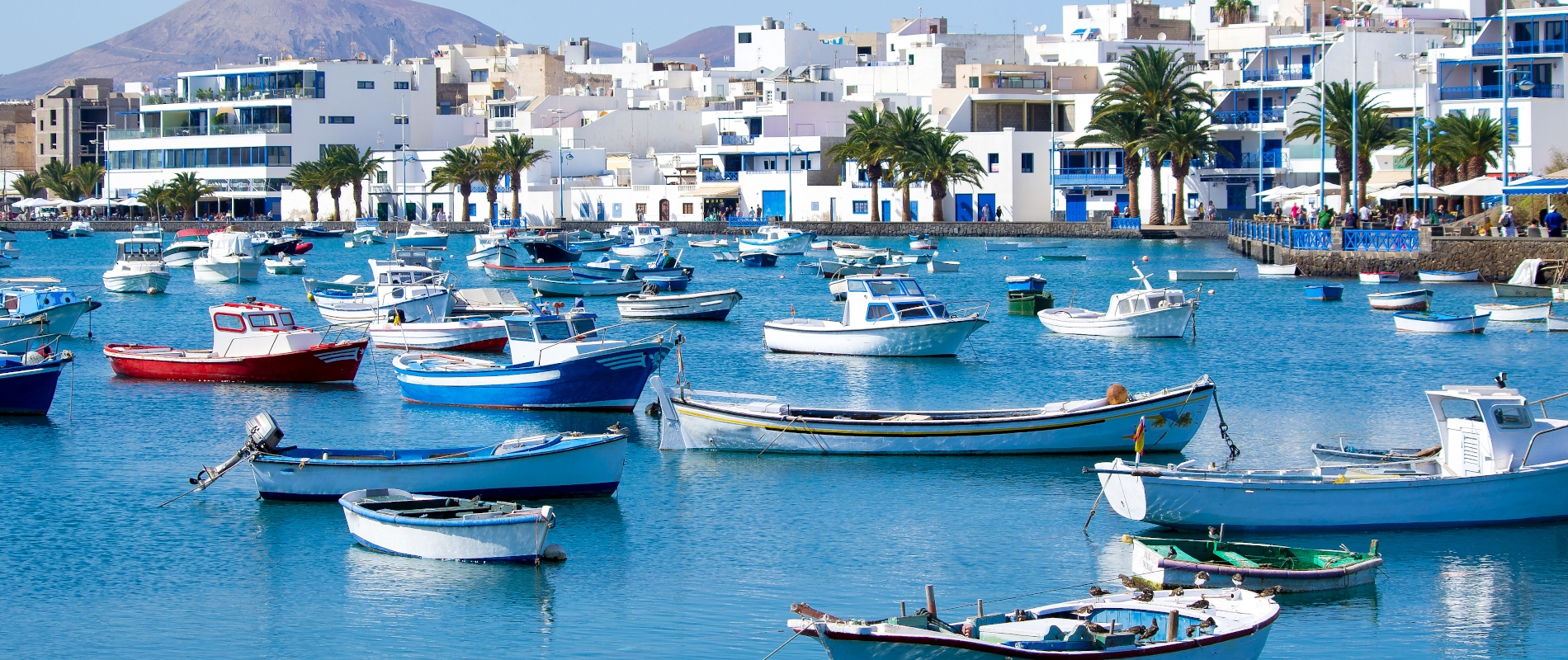 Welcome to
Lanzarote
This volcanic Canary Island located off the coast of West Africa is a UNESCO-designated biosphere reserve and is known for its surreal landscape of volcanoes, year-round warm weather and beautiful beaches.
Enjoy art, culture and outdoor life in truly epic surroundings, so get yourself a slice of this increasingly up-market island while you still can…
This small island (37 miles long by 12 miles wide) is located off the coast of West Africa, and forms one of the seven Canary Islands. A UNESCO-designated biosphere reserve, Lanzarote is known for its surreal landscape of volcanoes, year-round warm weather, and beautiful beaches. The climate is relatively rain-free, which has resulted in a parched, rocky landscape with a surreal, otherworldly quality that looks like it has been lifted straight from a science fiction film – and indeed, it has: Lanzarote has been used as the location for several sci-fi and fantasy films, including One Million Years BC. Gone are the bucket-and-spade associations of yore – Lanzarote is turning into quite an upmarket destination. Its eco-friendly credentials are second to none thanks to the influence of the visionary artist, architect and environmentalist César Manrique, who tirelessly lobbied planning authorities to prevent Lanzarote from the ravages of over-development. As a result, you won't find any high-rise buildings or billboard advertising here.
You will, however, find beaches – and lots of them. Yes, there are the usual long stretches of fine, gold sand, spilling into pristine waters but head to El Golfo in the southwest where you'll also find a very gothic black sand beach complete with its own acid green lagoon. The surrounding waters are equally varied – whether it's calm water you're looking for or perfect waves for surfing, you'll find it here.
With 300 volcanic cones, the Island has many uniquely beautiful sites, such as the scorched badlands of Timanfaya national park. Here, volcanic cones glow with a fire-and-brimstone palette of deep reds and charcoal blacks, bubbling mud pots (fumaroles) spit and hiss and mini geysers fume and steam with infernal fury. Continuing this diabolic theme is the Cueva de los Verdes, a stunning underground cave system with its own lake that could easily double up as a Bond villain hideaway. These caves also act as a concert venue; you can enjoy live classical music in this haunting setting with perfect natural acoustics. Emerge from this idyllic subterranean lair and head to César Manrique's fabulous Mirador del Río, a lookout post in the Famara mountains that allows you to view the oldest salt lakes in the Canary Islands in true arch-nemesis style. Manrique also created the Jameos del Agua, a unique art, culture, and tourism centre based in a series of caves. Here, you'll find a varied programme of live events including music, theatre, dance, and cinema in stunning cave surroundings.
There are also plenty of historic towns to discover, such as the old town of Puerto del Carmen. Inland, you'll find the beautiful whitewashed town of Haria, located in the valley of 1,000 palms. Why not pop along to the weekly artisan market which takes place here every Saturday or visit its small art gallery located in the old well or aljibe? If you are looking for something a bit more cosmopolitan, head to Arrecife, the island's capital. This coastal city is home to around half the island's inhabitants and offers plenty of urban hustle and bustle including shopping, nightlife, parks, promenades and beaches. Just five km south of the capital is Lanzarote airport, which offers flights to most of Europe. What are you waiting for?
---
Location
---
Other area guides in same area