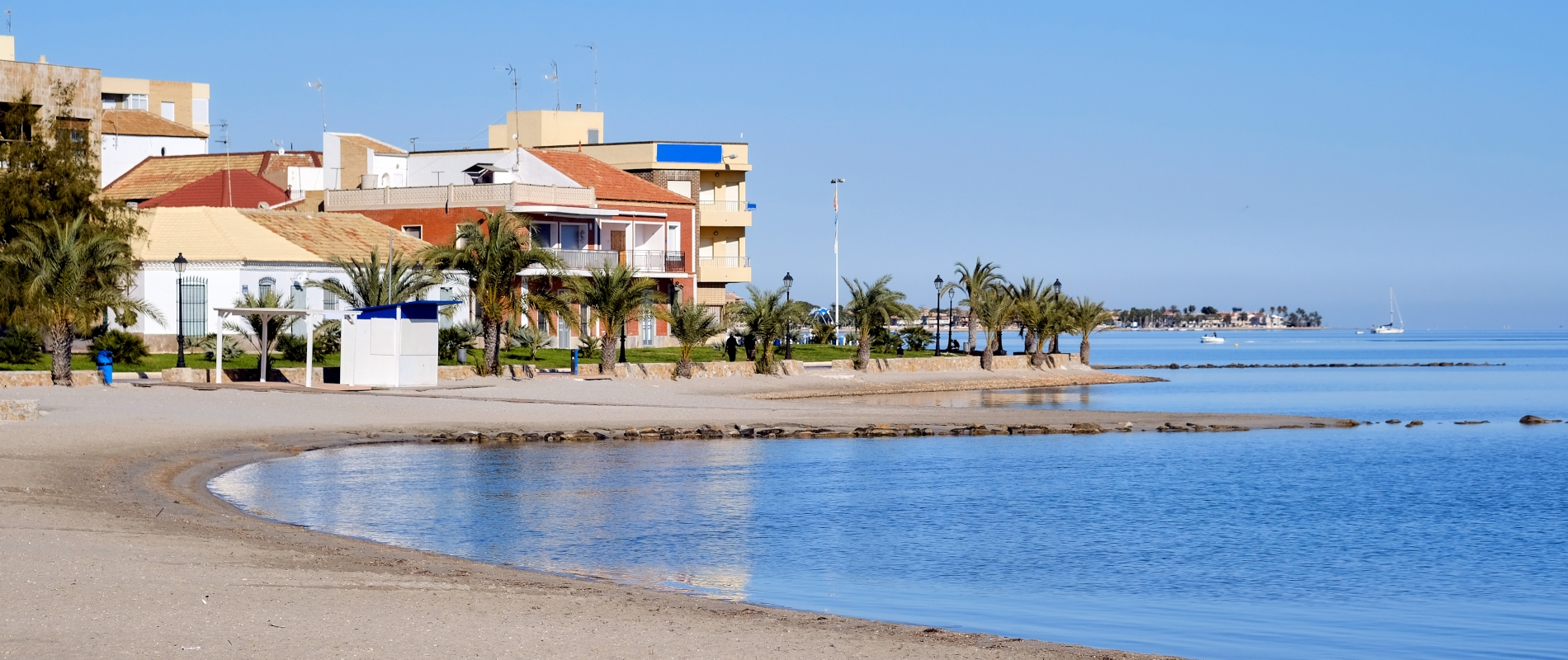 Welcome to
Los Alcazares
Los Alcazares nestles in the curve of the Mar Menor, Europe's largest saltwater lagoon, in the province of Murcia in Southern Spain. It is a land dedicated to leisure. From spas to golf, to drinking and dining, there's a lively scene year-round as well as a boom in the summer.
This once small fishing town has attracted people seeking rest and relaxation since the first Roman settlers built thermal bath houses there. Named from the Arabic word 'Al Kazar', meaning 'palace' or 'house of nobles', Los Alcazares continues to triple its population over the summer.
Historically, people come for the springs and spas, including the Hotel-Spa La Encarnación, famous for its 'novenaries' — a series of nine baths — on offer since the hotel was built in 1902. But more recently the area has developed into a major golf destination with over 30 golf courses within 1 hour's driving distance.
Then there's the Mar Menor, a calm, swimming pool-like sweep of sea, where many of the beaches are blue flag standard. Here, the temperate water is no deeper than 7 meters due to the bank of sand called La Manga which protectively cordons off the bay from the Mediterranean.
Los Alcázares residents celebrate year-round. With the 'Semana de la Huerta' (Countryside Week) in August and the 'Incursiones Berberiscas' (reenactment of the Berber Pirate raids), a Medieval market and a series of theatrical performances at Easter. As well as the usual fiestas, there's a week-long celebration of independence in October with live music and events, windsurfing tournament and fireworks. The Promenade is a road bustling with shops, restaurants and bars that cater for both the influx of summer guests and year-round residents.
---
Location
---
Property
Due to its facilities, Los Alcazares is more expensive than many of the surrounding resorts. The town has 3 neighbourhoods: Los Narejos, with duplex and low-rise apartments, townhouses and villas, where permanent residents tend to live, the Town Centre which is mostly apartments (often rented out to holidaymakers in season), and the Old Town which is traditional Spanish rather than modern in style. There are resorts — like the Ronda Golf resort — with estates surrounding the town offering high spec apartments and villas.
Transport
requently but not if you want quiet skies. However, this is due to be closed and replaced in 2019 (although there have been several delays) by the Región de Murcia International Airport, some 30 minutes' drive away. Motorways connect all the major coastal towns and inland cities; buses connect nearby towns like Torrevieja and Cartagena. There is also regular bus service circulating the town.
Health
The town has excellent public healthcare centre, along with a number of general practitioners and dentists. There's also a university hospital within a 15-minute drive.
---
Other area guides in same area